Recycle & Refuse Hopper
The perfect hopper for all kinds of recycling & refuse material. Great for paper, cardboard, plastic, aluminum cans, dry material, rags, glass, wood, floor dry, refuse, etc. Dual wall plastic lid keeps contents dry, unwanted pests out and helps control odors.
---

Crane Hopper
The Hippo Hopper Self-Dumping Crane Hopper is designed for use in manufacturing plants and commercial construction. The hopper can be maneuvered into place with an overhead crane and easily dumped by pulling down on the lever for a full 90 degree dump.
---

Low Profile Hopper
Low and wide design provides increased capacity with lower height for loading and positioning in areas with height restrictions.
---

Open Side Hopper
Designed for forklift handling for materials of all lengths and thicknesses. Suggested uses include: lumber, plastic and metal pipe, large sheet material, construction material and all types of debris.
---

CNC 90 Degree Dump Hoppers
The lowest CNC hopper on the market, expressly designed for the collection of chips and shavings from very low chip conveyors.
---

Flatbed Self-Dumping Hopper
The Skeleton Hopper is designed for use in plate and sheet metal processing centers, such as LASER / PLASMA / TURRET PUNCH CENTERS for fast, safe and economical handling of scrap skeletons.
---

Mobile Dump Hopper
Hippo Hopper Dump-N-Go towable self-dumping hopper attaches to small truck for transportation and dumping of bulk material. An economical product for the delivery of small quantities of construction and landscaping material or removal of debris from job sites etc.
---

Dust Containment Hopper
This hopper is used for the containment of dust when attached to dust collection equipment. When full, the lid can be removed from hopper and the hopper can be dumped using forklift. Presently available as a standard item in a 1 cu. Yd. model with drum style collar and flat clamp-down sealed lid. Along with this hopper we can modify a standard hopper or fabricate a custom hopper to meet your dust collection specifications.
---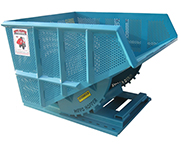 Dewatering Self Dumping Hopper
The Open design dewatering self dumping hoppers have perforated or expanded metal sides and back to allow for open drainage of wet materials. The dewatering self-dumping hoppers come with an option for a perforated back and side panels with removable stainless steel screens for finer screening of wet materials.
---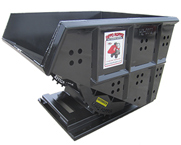 Dross Self Dumping Hopper
The Dross hopper is used to handle hot materials its unique design helps to dissipate and cool hot materials reducing the stress of the heat on the hopper.
---