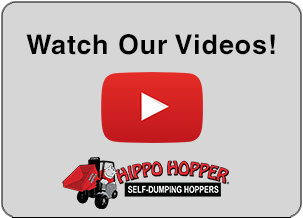 Click on the Hippo Hopper link below for additional information.

Available in light, medium, heavy and super duty steel dump container models across a full range of sizes.

The skeleton self dump hopper is the best way to load, transport and dump sheet skeletons to be recycled.

Keeping your work environment safe and dust free is a must, but doesn't have to be a hassle. Just use a dust collection hopper.

The perfect hopper for all kinds of recycling & refuse material. Great for paper, cardboard, plastic, aluminum cans, dry material, rags, glass, wood, floor dry, garbage, refuse, etc.

The Hippo Hopper Self-Dumping Crane Hopper is designed for use in manufacturing plants, mills and heavy construction sites for fast, safe and economical handling of bulk material and scrap.

When shipping cost is an issue and all you need is a light duty Hippo Hopper, this is the perfect solution.

The toughest stationary containers-material handling box in the industry. They are water tight and able to stack.

Frog hopper is a 90 degree dump container that is designed to fit in tight places with special hopper casters.

Designed for forklift handling for materials of all lengths and thickness.
Easy pull-down handle

A self-locking latch locks the hopper after it has been dumped
Standard Drain Plug

A 1/2" drain outlet is standard on all hoppers to drain off fluids